Yo ho ho and a bottle of rum
Some PR people have been very busy promoting Smuggler's Cove since its opening; very busy indeed. The buzz has been inescapable and Twitter is stuffed with people marvelling at the themed decor, posting instagrammed photos of the cocktails and proclaiming the food 'the best meal I've ever had'.
So it would have been rude not to check it out. I went with a friend on a weekday so it didn't have that weekend-night giddiness but was still consistently busy the whole time we were there.
The decor is pretty impressive and is made to resemble a Disney-esque pirates den, with loads of nooks and crannies, low lighting and overblown features like massive fireplaces and chandeliers.
The service, delivered by staff dressed in breeches and braces, was good; friendly and efficient. The menu is quite extensive with prices that aren't outlandish. Drinks prices are on the high side but they're paying Albert Dock rents and rates so they've got to make their money somewhere.
The food? It's not haute cuisine, more like good quality pub food. It's the presentation that sets it apart with meals served on wooden boards or in little treasure chests. There are burgers, chicken, salads and deli boards. The hanging kebab seems to be a favourite, along with the onion petals.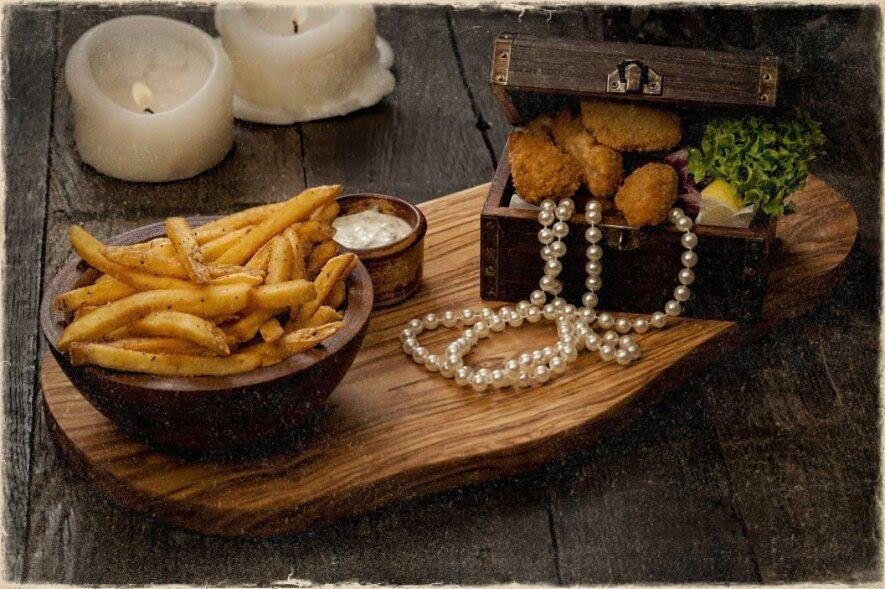 In true pirate* style, there is a rum selection running to over 150 and the cocktails are really impressive. There's cocktail making classes, rum tasting, live music and even a sing-a-long night. Open til 2am at the weekends too.
'Fun' can be such a dreadful word, like 'nice' but this place is undeniably fun. It's got a sense of humour, a bit of personality and that's often lacking. It seems to appeal to tourists and locals alike and it makes people smile. And that isn't a bad thing.
*Oh. Are pirates the same as smugglers? Discuss